New Frontiers in Product Modeling and Simulation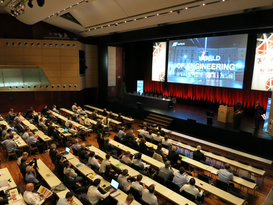 The NAFEMS 2014 Americas Conference and the Collaboration & Interoperability Congress (CIC) held co-located events at the beautiful Cheyenne Mountain Resort in Colorado Springs, CO in May 2014.

The central theme of the co-located events was, "Driving Product Development with Collaboration, Simulation, and Integration."
---
Agenda available here ...
americas_agenda_12pp_onsite_final_print_file_nafems.pdf
---


Keynote Presentation
The latest CAE/Hybrid Engineering utilization for Ford Advanced Powertrain NVH Development
Dr. Takeshi Abe Ford Motor Company






---
What is the future for engineering analysis and simulation?
Where will it lead us in the next decade?
How can designers and engineers realize its full potential?
What are the business, technological, and human enablers that will take past successful developments to new levels in the next ten years?
NAFEMS, the premier global organization dedicated to the advancement and improvement of engineering simulation, addressed these questions during its 2014 Americas Conference in Colorado Springs, CO on May 28-30, 2014.
NAFEMS events are the only truly independent and vendor-neutral conferences dedicated to engineering analysis and simulation. The 2014 conference brought together the leading visionaries, developers, and practitioners of CAE-related technologies in an open forum, unlike any other, to share experiences, discuss relevant trends, discover common themes, and explore future issues.
Two Conferences in One
Registration to the NAFEMS Americas Conference 2014 also included access to the 3D Collaboration & Interoperability Congress (CIC) which was co-located with the Conference in Colorado Springs, CO, USA. The central theme of the co-located events was, "Driving Product Development with Collaboration, Simulation, and Integration."

3D Collaboration & Interoperability Congress (CIC)

The CIC is dedicated to fostering and improving collaboration and interoperability throughout the product lifecycle. Manufacturing is a distributed business, usually involving global design teams and supply chains. World-class manufacturing cannot happen unless people work together effectively, collaborating from any location, and sharing product data safely, accurately and confidently.
Now in its tenth year, CIC is the only industry and vendor-neutral event in the world addressing collaboration and interoperability in product development, manufacturing and business communications. This makes it an essential forum to get an unbiased perspective to help guide product development, manufacturing and IT strategies in these mission-critical areas.

Find out more at www.3dcic.com