Costas Stavrinidis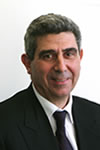 Dr Stavrinidis graduated in Aeronautical Engineering (Bachelor and Master of Science) from Imperial College, University of London and obtained Doctorates in Structural Dynamics from University of Stuttgart, Germany and University of London, England.
He worked in industry with Lloyds Register of Shipping and Kongsberg, and subsequently joined ESA in 1976 where he has been successively in charge of Structures Section, and Structures and Mechanisms Division.
In 1997, he became head of the Mechanical Engineering Department which covers the classical space disciplines Structures, Mechanisms, Optoelectronics, Microgravity and Life Sciences Instrumentation, Automation and Robotics, Thermal Control and Life Support, Propulsion and Aerothermodynamics, and Test Facilities for verification of space vehicles and subsystems.
Dr Stavrinidis was elected Chairman of NAFEMS in 2004.