Venue

In this section of the congress website, you will find all the information you need about the hotel, and also some further information to help make your time in San Diego an enjoyable one.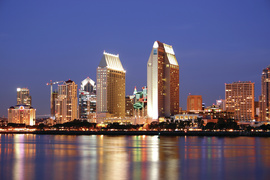 Venue
We prepared a page dedicated to the venue with which you will be able to book your room at a preferential rate.


Getting there
We also set up a page on guidance on how to travel to the conference venue from the Linsfield Airport in San Diego. There are many to get the the Manchester Hyatt: from public transport and shuttles and car rentals, you will have a vast choice to choose depending on your needs.
Frequently Asked Question
We also prepared an FAQ page that will help you with your registration, your travel and some other minor details. Queries ranging from "how to register?" and "how to pay?" to "what to wear?", these most common questions are answered by our team and we will continue to add any new questions that we receive.


Authors
Finally, the authors' page will enable authors to access their abstracts, upload manuscripts, and send final presentations. On this page they can also amend their details, upload a picture or a CV.